Stop by Bob Zegers Auto & Truck Rebuilders to see what specials are currently offered.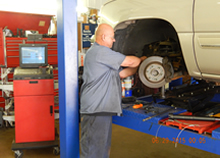 Alignment & Suspension
Rough Ride or Poor Handling?

Do you feel every bump on the road, or hear those strange clunking noises? Don't take chances with your safety or that of your passengers. Bring your car to Bob Zegers Auto and Truck Rebuilders and our certified technicians will diagnose your issue and get you back to driving safely and smoothly.
Car Pulling or Tires Wearing Unevenly?
We offer state of the art technology with our Hunter Alignment System. We inspect all suspension components for wear and tear as part of the alignment service.
Please contact us for more details if you need are having alignment or suspension problems with your vehicle.