Contact us for seasonal specials on air conditioning repair or replacement.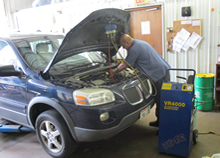 Air Conditioning
Cold Air Problems?

A/C systems are more complex on today's vehicles. Bob Zegers Auto & Truck Rebuilders starts by inspecting your vehicle's A/C system to identify if you have a leak or if your compressor is struggling to move cold air throughout the vehicle.
Please contact us for more details if your car or truck is not cooling properly.